Posted in Ski+Snowboard | February 27, 2014 | By Tahoe South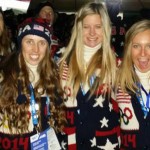 PHOTO BY SIERRA AT TAHOE RESORT
Pictured above (L-R) are Olympians Maddie Bowman, Hannah Teter, and Jamie Anderson. Credit: Sierra-at-Tahoe Resort
South Lake Tahoe, the small, tight-knit ski community big on Olympic athletes will honor its three USTA team members in a city-wide celebration on Saturday, March 15.
Jamie Anderson, Maddie Bowman, who won gold for snowboarding slopestyle and freeskiing halfpipe respectively, and Hannah Teter who placed fourth in snowboarding halfpipe, will be lauded at Sierra-at-Tahoe Resort.
A procession will take the Olympians via fire truck from South Tahoe High School, onto Highway 50, past the airport and through the town of Meyers, concluding at Sierra Resort. Community members can line Highway 50 along the route and cheer the Olympian procession as it drives by.