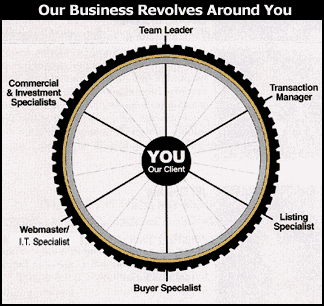 Team Concept
Everyone is a specialist, enabling each to do what they do best, providing the client an experience that exceeds their expectations and turbo charges the career path.
Deb Howard & Co Support staff (see the wheel) – By providing top notch staff and tremendous systems support; Front line customer service representatives, processing and qualifying leads, full time IT/Webmaster providing cutting edge exposure and lead generation, Transaction Coordinator who takes coordination of the escrow process to a fine art form; all of which frees up the sales specialist to do what they do best; "A" time activity; training, previewing and learning the market, prospecting for clients, listing or qualifying, showing property, writing offers, negotiating and completing the sales circle. We have systems for all of the above which takes the guess work out of assimilation and learning curve.
Deb Howard & Co believes that smart and directed advertising and marketing is the cornerstone for a successful resort real estate company. This philosophy generates constant lead generation for our team members – It takes money to make money. Therefore, we take great pride in analyzing where to promote and being the top in these media outlets.
1. Internet Exposure – We are the only company with a full time IT staff member, we put a major focus on maintaining a large exposure in this media opportunity. 8 out 10 buyers start on the internet. Then they want a qualified, trustworthy sales expert (that's our team of buyer's specialists). Our site consistently ranks top in the major search engines and always top in the sponsored links. This is no accident, it takes time and money, a service we provide our team.
2. Direct Mail – Target marketing provides a steady stream of qualified clients, a service we provide our team.
3. Print Advertising – While print is losing the market share battle, we continue to have high exposure in the mediums that drive business (generally to our web site).
4. Signs – We continue to be a leader in the listing market share, which drives the buyer business.
5. Team Promotions – We are constantly promoting the people and benefits of our highly skilled, hardworking and ethical team members, which generates market interest, great exposure and instills trust in our customer. The #1 quality that buyers and sellers are looking for is someone they can trust, and then comes knowledge and communication. We're all that!
6. Community Good Will – Deb Howard & Co team members participate in many charitable and civic organizations. We believe that giving is a great virtue, one that reaps many benefits through personal and business growth. We plan and participate in many annual client and community events.
Training and Education
At Deb Howard & Co we take our training and education seriously. Our slogan at Deb Howard & Co is "We're Lake Tahoe's Real Estate Resource". With 40+ years of experience on the team, we've taken customer service to a new level. Providing the customer with current statistical and trend information on the Tahoe and Resort Real Estate Market is critical. Knowing our product is imperative. We have an in-house training program each week that provides "on and off the job" information. Our Team is always ready to mentor our new team members in each of our areas of specialization which will quickly assimilate you into the Deb Howard & Co. team and family culture. We encourage and incentivize our team members to grow in their education and knowledge of the market by attending NAR, CAR, and CRS conferences. Additionally expanding your education to include designations and certifications such as RSPS, CRS, GRI, CBS, EPRO amongst many others, is a great win-win for the team member and our customers. Team meetings are every other week which features great speakers, networking, brain storming, goal and team planning strategies and opportunities. We have an annual Team Retreat which is training, planning, bragging and a very fun event we look forward to every year.
Growth and Development
Deb Howard & Co is on the move for You AND our Customers. We're located at the highly visible location near the Ski Run Marina and community plan area. We meet the needs of our ever-growing customer market with an easy to find, park and highly visible Highway 50 location, not to mention the fact that we're located in the middle of a 700+ hotel, motel and condo room base.
We're looking forward to assisting you in turbo charging your real estate career with the dynamic opportunities at Deb Howard & Co. We're a boutique company whose goal is to provide our team members with great opportunities, to have successful careers, client and team relations worth having in a highly productive and FUN environment.
Our pledge to you as a team member at Deb Howard & Co: your success is our highest priority. You won't get lost in our company!
Look forward to discussing our team benefits and dynamic career with you.
Deb Howard, CRS, RSPS, ePRO
Deb Howard & Co
President and Broker