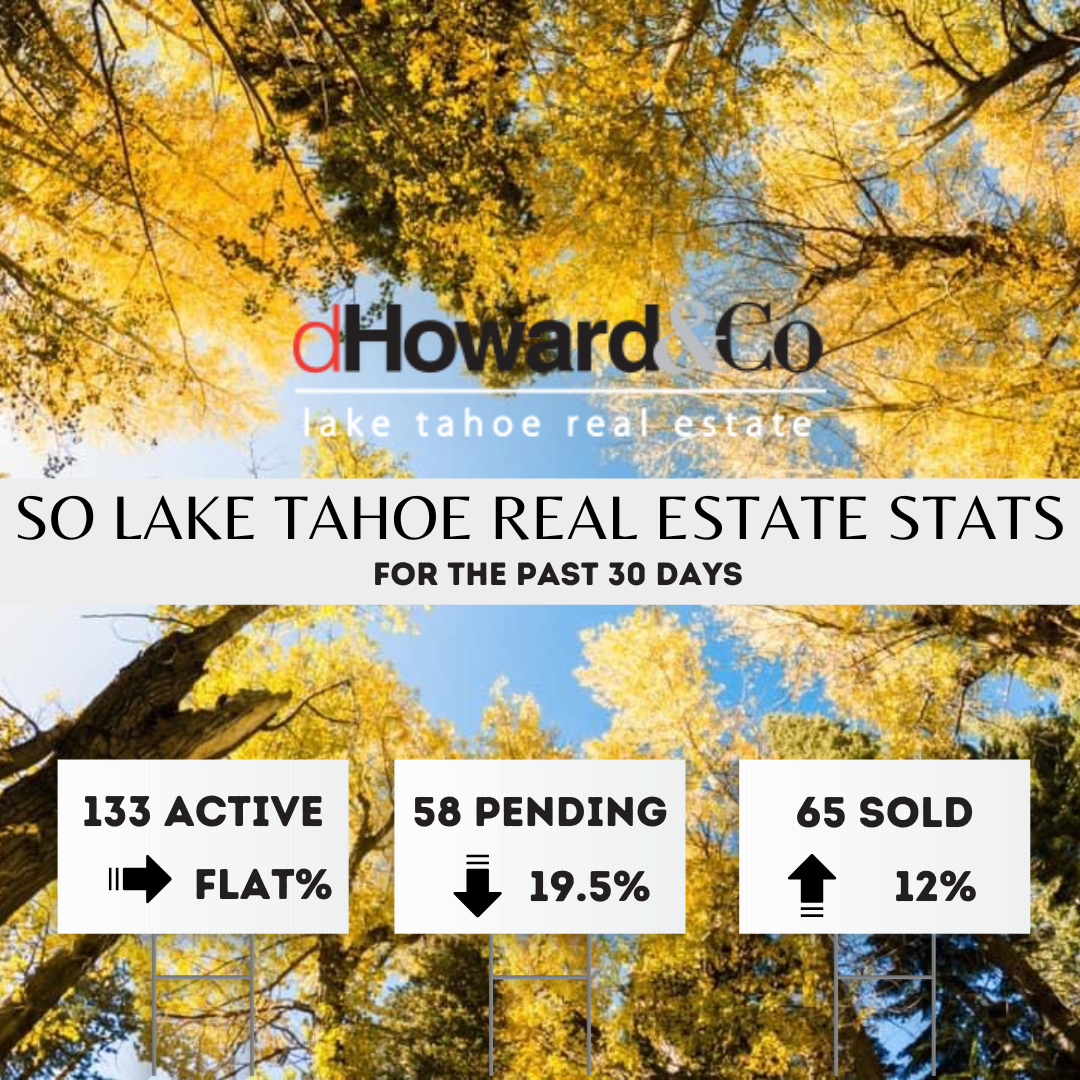 The story, this beginning of our beautiful fall season, is the market is settling into a steady consistent pace! This likely due to our post pandemic school-to-work lives, which are also settling in as we move from our robust summer season, to quite frankly, my favorite time of the year. That aside however, I'm not alone in this tendency as we will start to see our visitors coming back for more of our amazing quality of life and recreational opportunities that continues to turn into serious decisions about making Tahoe their home base and or a home away from home. The choices in housing options and inventory are refreshing regularly, as sellers are making their move, putting their homes on the market, with realistic price points in mind. All this providing for an active, steady market with attractive pricing as we lean into a fluctuating mortgage market.
All the while inventory has peaked and now officially has "leveled off".
Pending sales have dipped significantly for the first time in some period, homes sold have increased but prices have decreased reflecting the changing market.
In a nutshell were all over the map; prices of active home listings are flat, pending homes prices are up 8% and homes sold week over week median price, down at about 20%. We have 2 months of inventory on the market, which too has settled in and tells the story of the now seller's market. While this demonstrates that we have moved to a seller's market, I don't expect this to last for long, with pending sales down the pipeline of closing will slow down. We are still seeing multiple offers however not as often as the first half of the year and certainly not seeing an extreme List-to-Sale price ratio. In fact, the List-to-Sale price ratio of homes sold this week over week was back to a more normal range of 97.5%.
Active Listings
$825,00.00 median home price,
(Flat week over week )
$579. price per sq ft.
(Flat week over week )
Pending Listings
$787,000 median home price
(Up 8% week over week)
$502.00 price per sq ft.
(flat % up week over week)
Sold Listings
$631,0000 median home price
(down 21% week over week)
$466.00 price per sq ft.
(down 6 % week over week)
Year over year we are reporting a 7% increase in median home prices in the Lake Tahoe, So. Shore market. However, month over month we are tracking a changing scenario with predictive values of 5% annual appreciation for the calendar year of 2022 based on the sales data leading to this week's stats and eblast.
The absorption rate has continued to move downward and is now hovering at 2.0 month(s) of inventory. 3 months of inventory has become a bit of a standard for these past many months. This however is now lining up with that of our market history and which our association has been tracking for over two decades. As we roll well into the dog days summer, the indicators are showing buyer demand appears to be consistent with our traditional seasonal trends.
Interestingly, the perfect storm of conditions that drove the pandemic's "seller's market" here in the Lake Tahoe basin being driven by the underlying factor and demand for access to a healthy outdoor recreational lifestyle. The ability to work remotely, new to many, with an easy short distance commute (when needed ) to "the office", coupled with Tahoe So Shore's attractive inventory and pricing made the home buying decision an easy and quick solution for many.
And while this still exits, the main drive that coupled the lifestyle drive has receded, that being the flight to safety. With most now having the safety net of vaccines and boosters to keep us safe and healthy, many are venturing back to the workplace or "the office" and resuming a more normalized lifestyle, kids back to school, etc.
So we are finding our real-estate market also returning back to a more normalized market where both Buyers and Sellers and are back to negotiating, as evidenced by a less than 2 months of active listing inventory on the market. For many a relief, for others the sense they may have missed the market. The latter is not so, as prices have not declined but simply stopped trending higher!
The Federal reserve has raised the interest rates another 3/4 of a point sending another round of shock waves through the financial markets as the fed struggles to rein in inflation with the one tool they have. Some speculate that we may continue to see this through the foreseeable end of year.
While interest rates in the 6+% range, which has cut into the affordability of many. We have seen reasonable alternative financing surfacing with options of variable rates and quite a few "buy down" rate programs which are offering glimmers of hope to those impacted by the range hikes. Add the stabilizing and seasonally tempered home prices, the big picture for an active real estate market bodes well as we lean into the next quarter.
While in the rear-view mirror, the traumatic events of the past high Sierra fires, pandemic driven tourism surges, snow-apocalypse that brought a stronger than ever committed community. This propensity to withstand and grow stronger in the face of adverse conditions, will aid the Tahoe community and others well beyond, as we deal with the ever-changing landscape of most recent global challenges in Ukraine. We stand steady and strong with our hearts and minds in our united support for the people and the country of Ukraine. This guides us to a steady return to a resilient "Tahoe Strong" community, and what can only be viewed as a robust Spring real-estate market.
Welcome to our Lake Tahoe market and community where we welcome and encourage you to come and let's look at what new and inviting opportunities are available. If you're new to the market we'll bring you up to speed and get you on the right path to your Tahoe home ownership!!