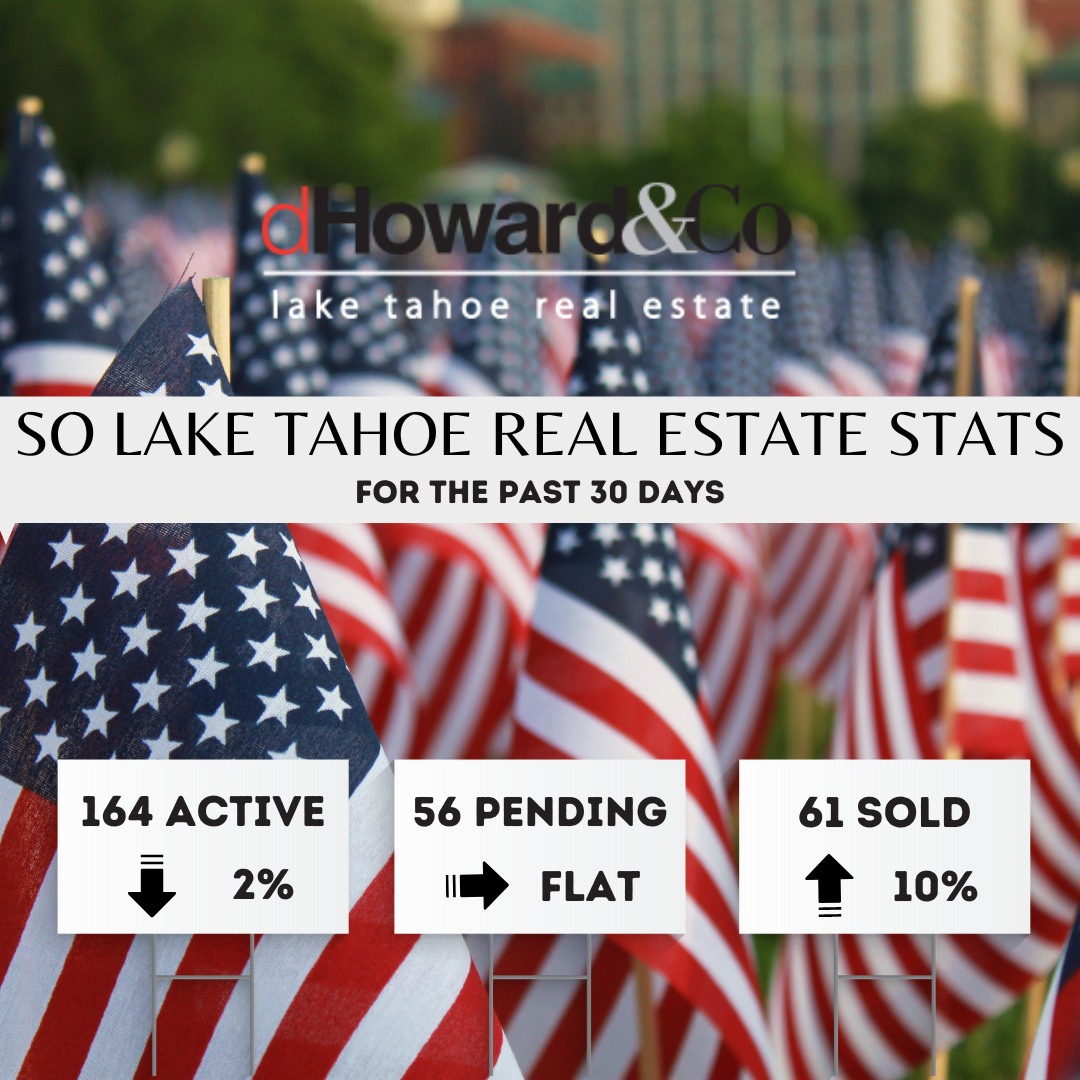 The story this month is "inventory has gone up", hitting an all-time high in nearly a year of 164 sfd homes active listings on the market. Pending sales and homes sold have both moderated. However, we have 2.6 months of inventory, and while this is increasing, it tells the story of the seller's market in a state flux. And in fact, it demonstrates that we have moved to a much more level playing field. I know this is a welcomed change to the market!
Active Listings
$853,000 median home price,
(flat % week over week )
$585. price per sq ft.
( down 7% week over week )
Pending Listings
$700,000 median home price
(flat week over week)
$533.00 price per sq ft.
(down 3 % week over week)
Sold Listings
$817,500 median home price
(down 2% week over week)
$536.00 price per sq ft.
(down 1% week over week)
Year over year we are reporting a 14.1% increase in median home prices in the Lake Tahoe, So. Shore market. However, month over month we are tracking a changing scenario with predictive values of 5-7% annual appreciation for the calendar year of 2022 based on the sales data leading to this week's stats and eblast.
This is mirrored in the median home prices which have been tracking up at meteor rates until this past month. However, our median price for homes sold, having recently broken the $,000 price point for the first time ever is still tracking slightly upwards at less than 1% increase mo. Over mo., however much more slowly than the past two years. More to follow as we track the strong but ever-changing market.
The absorption rate has continued to move up and is now hovering in the 2.6 months of inventory. One month of inventory has become a bit of a standard for these past many months. This however is far below that of our market history and which our association has been tracking for over two decades. As Summer approaches and the summer travels, the indicators are showing buyer demand appears to be staying steady and strong with our traditional seasonal trends. The amazing conditions for the recreational enthusiasts are fueling the desirability of owning a Tahoe home.
Both Buyers and Sellers and are back to negotiating, however with less than three months of active listing inventory on the market, the we are seeing a balanced market between buyers and sellers finally alive and well.
The Federal reserve has raised the interest rates .75%, the largest rate hike since 1994 and that while we have been at relatively moderate interest rates, we will see a rise in interest rates through the foreseeable end of year. This (interest rates) along with a steady increase in home inventory, will continue to fuel home prices. Add the stabilizing and seasonally tempered home prices, the big picture for an active real estate market bodes well as we lean into the next quarter.
While in the rear-view mirror, the traumatic events of the past high Sierra fires, pandemic driven tourism surges, snow-apocalypse that brought a stronger than ever committed community. This propensity to withstand and grow stronger in the face of adverse conditions, will aid the Tahoe community and others well beyond, as we deal with the ever-changing landscape of most recent global challenges in Ukraine. We stand steady and strong with our hearts and minds in our united support for the people and the country of Ukraine. This guides us to a steady return to a resilient "Tahoe Strong" community, and what can only be viewed as a robust Spring real-estate market.
Welcome to our Lake Tahoe market and community where we welcome and encourage you to come and let's look at what new and inviting opportunities are available. If you're new to the market we'll bring you up to speed and get you on the right path to your Tahoe home ownership!!