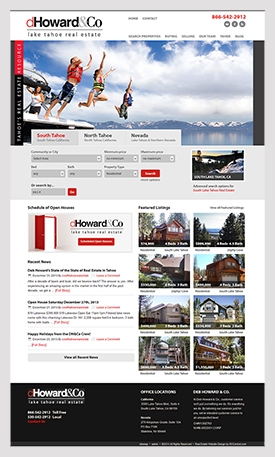 We are happy to announce the launch of our new and improved website www.realtordeb.com – your online resource for all Lake Tahoe real estate. In this seamless transition we endeavor to keep our internet technology at peak performance, providing you our clients, with easy access to current and critical data and information impacting the Real Estate industry, enabling you make the right decisions about one of your largest investments, whether buying or selling.
This feature rich website has everything you need to help you in your search for local homes for sale in South Shore Lake Tahoe, North Shore Lake Tahoe, Nevada Lake Tahoe, the entire Lake Tahoe area both California and Nevada. As licensed brokers and realtors, we have assembled a team of experts that know our business, our communities and our neighborhoods around the Lake Tahoe area and surrounding regions.
Start your advanced search for Lake Tahoe real estate now or search by map. Have any questions about a listing or real estate in general then contact Deb Howard and our team of knowledgeable real estate experts today via email or call 866-542-2912.
Schedule a tour of homes for sale that interest you or view our list of weekly opens homes. Also check out our featured properties for insight into the Lake Tahoe market including virtual tours.
Be sure to sign up for FREE New Listing Email Notifications or a Free Market Analysis and stay informed of hot new listings as they the hit the Lake Tahoe market each day. Only get listings emailed to you that meet your specific criteria. Sign up today!