Cabin Living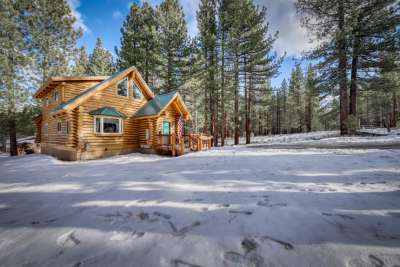 If you dream of living in a cozy cabin amid beautiful natural surroundings, the scenic shore of Lake Tahoe could be just the place for you. Nestled in a stunning setting, cabin real estate in South Lake Tahoe CA, provides ideal dwellings for those who want a self-sufficient or quiet lifestyle. An experienced realty company that knows the area well such as Deb Howard & Co. makes the search for a picturesque cabin easier.
The Town of South Lake Tahoe
The town of South Lake Tahoe itself is just over 16 square miles in area, but it includes breathtaking vistas and numerous opportunities for satisfying outdoor activities year-round.
Parks
Hiking trails
Skiing and snowboarding when in season
Beaches
Golfing
Wine tours
You can charter boat tours as well as rent boats, kayaks, and canoes. There are also museums, shops, and art galleries to round out the entertainment options. With a population of about 22,000, South Lake Tahoe is large enough for luxuries but small enough to deliver a warm feeling of community.
Cabin Listings in South Lake Tahoe CA
There are lovely cabin listings in South Lake Tahoe CA, ranging from small, comfortable dwellings to mountain homes with rustic elegance. You can choose a lakefront cabin home or a backcountry location where you can get away from it all and enjoy lovely seclusion.
Deb Howard & Co. can show you cabins with desirable amenities that let you make the most of your breathtaking surroundings.
Large windows
Attractive fireplaces
Decks
Cabin real estate in South Lake Tahoe CA, has mountain views or lake views, so you will always have beauty just a glance away.
An Experienced Real Estate Company
Deb Howard & Co. is passionate about service. Deb Howard has over 40 years of experience in South Lake Tahoe's real estate industry. The other Realtors® at the agency are just as dedicated to going above and beyond to give you an unparalleled buying experience.
They are excited about this unique area's transformation into a charming village that offers world-class amenities. If you are interested in cabin listings in South Lake Tahoe CA, Deb Howard & Co. can guide you through your search every step of the way.
Find Your Cabin
If the idea of living in an attractive cabin amid spectacular surroundings appeals to you, Deb Howard & Co. can help. We know this area, and we will listen to your wants and needs to help you find the ideal rustic residence that will provide sanctuary for your mind as well as your body. Contact us today at 866-542-2912 or use our online form.