Biking & Hiking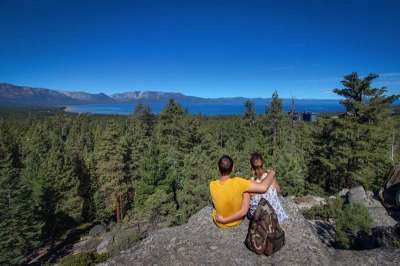 The local trails in South Lake Tahoe give both the hiking and biking community a wonderful outdoor experience that lends itself to the mountain lifestyle that makes Lake Tahoe so special. While there is no shortage of opportunities, the South Shore has a few well known (and loved) trails that are a must for both residents and visitors to try.
The Van Sickle Trail is located just behind the Heavenly Village which is Tahoe South's newest park. It connects Stateline to the Tahoe Rim Trail, delivering terrific views within the first mile of the hike.
The Rubicon Trail Hike is a super scenic hike along the shores of Emerald Bay that is 13.2 miles round trip with cliffs, wildflowers, waterfalls, and old lighthouse and coves.
Mr. Toad's Wild Ride/Saxon Creek is a Tahoe classic. This trail is loved by advanced riders as it gives them a long descent through rock terrain surrounded by tall trees with smooth, banked turns as you approach the lower sections.
Corral is good for advanced riders or intermediate riders looking to improve their skills. You can look forward to rock and log features and jumps.
The Powerlines Trail is another favorite as it is a smooth trail that is great for beginners and connects to other trails with access points throughout town.
The Flume Trail one of the most well-known trails in Lake Tahoe with stunning view over the Eastern Shore. The total trail distance is 22 miles and starts at Spooner Lake and allows you to climb a ridge 2,000 feet above the lake making it a perfect option for getting that Instagram photo.
If you need a family friendly hike, Fallen Leaf is great as there are plenty of gentle trails with pretty views surrounded by wildflowers.
If you are looking for something hard, Mt. Tallac is one of the most challenging hikes in Lake Tahoe. This hike is 10 miles roundtrip with some stunning views that are worth the effort.
If having trails nearby is important to you when trying to find South Lake Tahoe real estate to buy, be sure to talk to your Realtor and ask which neighborhoods are the best option for you. For more trails in South Lake Tahoe, Click here.