Fallen Leaf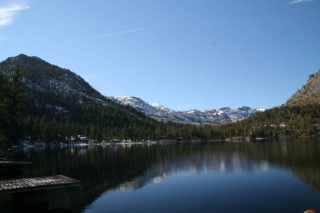 Fallen Leaf Lake is one of the beautiful alpine lakes in the very near vicinity to Lake Tahoe. It offers views equally as spectacular as those surrounding Lake Tahoe itself. Real Estate in the Fallen Leaf Lake neighborhood range from small cozy cabins to large intricate estates—all of which have been designed in a custom fashion with a high degree of creative craftsmanship. This South Lake Tahoe neighborhood lies directly beneath Mt. Tallac—one of the Lake Tahoe Basins highest peaks, which results in fantastic mountainous views. This neighborhood is very boater friendly—making for a great way to enjoy a pull on a wakeboard or waterski, a morning out fishing, or just a gorgeous and serene boat ride. Camping in the Fallen Leak Lake area  is available in the summer and fall. Additionally, the neighborhood is just a few minutes from the middle of South Lake Tahoe—making it easy to access the everyday necessities and conveniences of the town. The Fallen Leaf area is far enough away from South Lake Tahoe to offer an extended version of peaceful serenity; however, it is still close enough to enjoy the many activities that make Lake Tahoe so notorious worldwide.
Recently Listed Fallen Leaf Homes For Sale
View all Listings
Beds: 4 Baths: 3.000 Sq Ft: 2800
This owner / architect custom design home built in 2002 will impress even the most refined buyers. An intimate yet open floor plan is warmed...
Details
Beds: 4 Baths: 4.000 Sq Ft: 2200
Seven Gables is located in the exclusive and pristine area of the Fallen Leaf Lake Lodge Properties. This lake cabin home for rent is exquisitely...
Details
Beds: 2 Baths: 2.000 Sq Ft: 770
This extremely rare lakefront opportunity has recently become available on scenic, historic Fallen Leaf Lake, the jewel of the Sierra. Reward...
Details
View all Listings