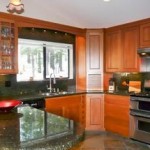 All around the Lake Tahoe basin, you can find great restaurants from inexpensive breakfasts or lavish buffets, to giant burgers and fries, to fine dining establishments for dinner.  There are lakeside restaurants, where you can literally enjoy your meal with your toes in the sand, and places at high elevation for viewing spectacular sunsets…American and California cuisine, Chinese, Japanese or Sushi, Mexican or Italian, and more…Lake Tahoe has it all.
Plus, the beaches of Lake Tahoe offer a great spot for all kinds of picnics, with activities for the whole family such as water skiing and kayaking, right from your picnic table or beach spread.  Imagine relaxing in your beach chair, feeling the warm sand in between your toes, enjoying the soothing sounds of Lake Tahoe's waves, and taking in the beautiful blue, crystal clear waters.
Check out:  TahoesBest
Of course one of the best spots for enjoying food is right from your own Lake Tahoe home.    Whether you're cooking a warm winter soup inside, enjoyed around a toasty fireplace or eating outside on your deck, under the pines during Tahoe's beautiful summer months, there's no place like home.
Wally the Skier Realtor